Anyone who reads this site knows we're big fans of the Brave browser, which is a major weapon against the globalists to keep web access decentralized and free. I've posted about Brave killing Google, Brave smacking down Twitter, and related to this article, Brave vs. Firefox.
Firefox is in trouble. Their Google sugar-daddy agreement is up in 2023, and they've been trying to conjure up new avenues for revenue. While they did increase revenue some, they continue hemorrhaging market share at an unsustainable rate.
At the end of 2008, they had 20% of browser market share; they're now desperately clinging to 4%:
Across all devices, the browser has slid to less than 4 percent of the market—on mobile it's a measly half a percent. "Looking back five years and looking at our market share and our own numbers that we publish, there's no denying the decline," says Selena Deckelmann, senior vice president of Firefox. Mozilla's own statistics show a drop of around 30 million monthly active users from the start of 2019 to the start of 2022. "In the last couple years, what we've seen is actually a pretty substantial flattening," Deckelmann adds.
Yikes. Firefox is led by Marxist lunatic Mitchell Baker, hence why failure was nothing short of destiny.
In the two decades since Firefox launched from the shadows of Netscape, it has been key to shaping the web's privacy and security, with staff pushing for more openness online and better standards. But its market share decline was accompanied by two rounds of layoffs at Mozilla during 2020. Next year, its lucrative search deal with Google—responsible for the vast majority of its revenue—is set to expire. A spate of privacy-focused browsers now competes on its turf, while new-feature misfires have threatened to alienate its base. All of that has left industry analysts and former employees concerned about Firefox's future.
Their demise is just speculation. What about the Firefox insiders?
"Chrome has won the desktop browser war," says one former Firefox staff member, who worked on browser development at Mozilla but does not want to be named, as they still work in the industry. Their hopes for a Firefox revival are not high. "It's not super reasonable for Firefox to expect to win back even any browser share at this point." Another former Mozilla employee, who also asked not to be named for fear of career repercussions, says: "They're just going to have to accept the reality that Firefox is not going to come back from the ashes."
Ouch.
When they say "Chrome has won the desktop war", they're really talking about Chromium (not Chrome itself), and the one aspect of Firefox's architecture that differentiates them from the competition: their rendering engine (Gecko). Google Chromium's engine (Blink) is the most used on the web, as the other browsers are built on Chromium. Firefox's argument that they provide an alternative to Google would carry some weight if Chromium wasn't open source, or at a minimum, anyone else used Gecko.
Firefox used to lead the pack on privacy. Privacy browsers now saturate the market:
The pressure to find new revenue streams comes at a time when Firefox faces more browser competition than ever. "A lot of browsers use privacy in their branding," says Lourdes Turrecha, founder of Rise of Privacy Tech, a group that monitors privacy-focused companies. Many of Chrome's competitors look to differentiate themselves by not collecting data about your browsing history or tracking what you do online. Firefox, DuckDuckGo, Brave, Vivaldi, and Safari all join Tor—which is widely considered the most privacy-preserving option—in blocking tracking to varying degrees.
Regarding privacy, I'm not sure you can use that as an argument while Baker, for instance, prevents users from installing extensions that oppose her political views. What idiots were stupid enough to install this clown as head of Mozilla?
Baker is leading Firefox into the ground in an uncontrolled nosedive.
Brendan Eich, however, is a patriot and knows how to run a web technology company. The difference between the two is stunning.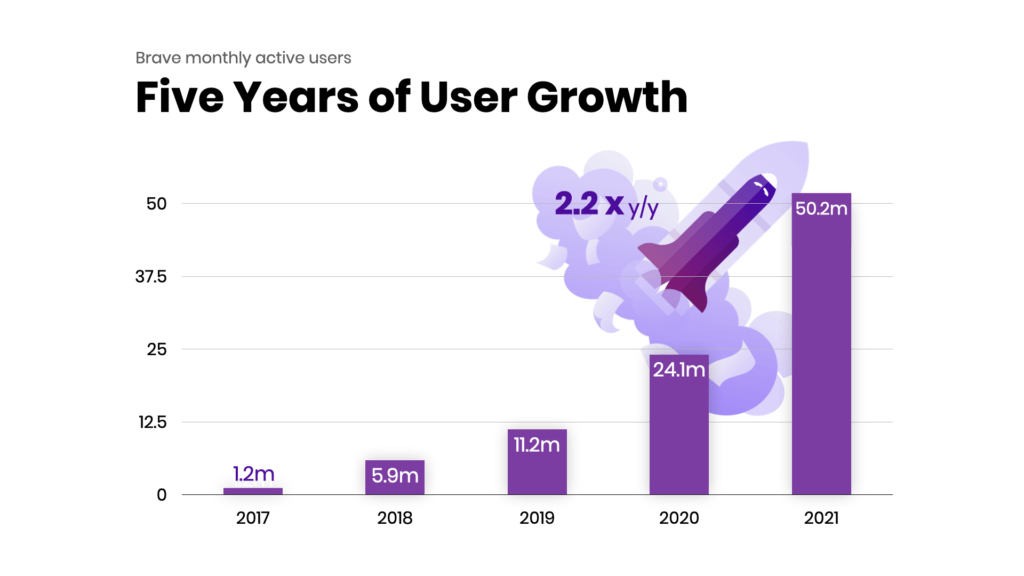 ​Brave is enjoying doubling growth, YoY, every year. In 2020 they had 24.1mm MAU, and 50.2mm MAU for 2021. Brave is innovating web technologies while Firefox re-arranges the deck chairs on the Titanic.
Firefox depends on Google money to direct users to their search engine. Brave built their own self-indexed (the only one -- DuckDuckGo uses Bing's index) privacy search engine AND has a growing revenue model. Brave built their own video conference product to compete against Zoom, among other innovative services:
Key new products from Brave this year included Brave Search, Brave Wallet, Brave Talk, and, for iOS, Brave Playlist.
Brave's partnerships included new features or projects with Solana, Gemini, Binance Smart Chain, IPFS, Unstoppable Domains, bitFlyer, Epic Games, Gala Games, and Splinterlands.
Comparing leadership and success between the two ventures is laughable. With all of the new services and rapidly growing user base, Brave is hiring high-end talent, like Twitch's CMO, while Firefox lays off their tech teams:
Annie brings 17 years of experience in consumer marketing and online advertising across various tech companies. Most recently, she was the Senior Director of Product Marketing and Revenue Growth at Twitch (an Amazon subsidiary), focused on helping streamers build their communities and monetize through live streaming. Her team drove marketing initiatives to support Creator, Viewer, Commerce, Ads, Music, Revenue Growth, and Trust & Safety products, while also working with brands and game publishers to develop innovative partnership opportunities on Twitch.

Prior to Twitch, she launched Amazon's private label brands within the Health & Wellness category and led the Brand & Acquisition marketing team at AmazonFresh.

During her time as Head of Marketing at EatWith, she led the global marketing and community team responsible for driving supply and demand for their communal dining marketplace. Before EatWith was acquired, Annie helped launch strategic partnerships with MasterChef and TripAdvisor to boost the number of hosts and guests on their platform.

Previous to EatWith, Annie was an early employee and the first marketing hire at Pinterest. From under 20 million to over 100 million users, she helped shape product marketing and content marketing functions during her tenure—including GTM for product launches, editorial marketing programs, and seasonal campaigns in partnership with brands.

Before transitioning into the B2C world, Annie's career began at Microsoft Advertising. She onboarded their earliest search clients onto Microsoft adCenter, managed display operations for MSN, and supported SMB marketing initiatives.
Not the worst resume I've ever seen. Brave seems dedicated to hiring the best talent, which is another reason why they succeed. Beyond Google, Firefox isn't subsidized by government, unlike other Marxist-led projects. Firefox is what happens when such companies are forced to compete.
Conservatives using the web should be using the Brave browser.
PS: In my last post on Brave, I saw some comments over my article over the web that said "Gab made Brave more secure with Dissenter." That's probably the stupidest thing I've EVER read, as the opposite is true (Torba FINALLY admitted Dissenter is dead on Tim Pool's show). Don't say stupid things.