Sorry, RINOs, this ain't going away no matter how much you kick and scream that it's over and we just need to forget about 2020 and move on to 2022. If the election system is not secured, 2022 is a joke.
The Wisconsin Legislature is launching an investigation into the the stolen election in their state. Like the Maricopa County audit that found an insane amount of crimes, despite the desperation from the anti-Trump RINO Marxists trying to push a lie that it proved Creepy's victory.
As with Maricopa, the election officials were desperate to hide requested information:
Republican Senate leaders especially targeted the City of Madison when announcing their investigation, saying the city's election officials refused to provide documents and ballots that the LAB requested. No other municipal or county governments were mentioned.

"I was disappointed to see that an elected official tasked with the administration of fair and transparent elections would refuse their duty to provide requested information necessary to prove they did their job adequately," Senate President Chris Kapenga (R-Delafield) said. "That is unacceptable."

The three top GOP Senators declared the LAB's audit "painted a grim picture" of the Wisconsin Elections Commission's management of the fall election and claimed state elections officials' actions, "undermined the free, fair, and transparent elections Wisconsinites deserve."
The Mayor of Madison:
"State and federal law requires the preservation of election materials for 22 months following the election and requires clerks to preserve a chain of custody that would be broken by allowing 3rd party access. The US Department of Justice put out guidance citing federal criminal penalties for election officials who willfully fail to comply with the retention and preservation requirements before 22 months had passed.

We informed LAB that they could inspect all records in the presence of City staff, but we could not hand over original ballots and documents. LAB staff did not provide any legal authority which would supersede these statutes."​
Tens of thousands of absentee ballot envelops were invalid: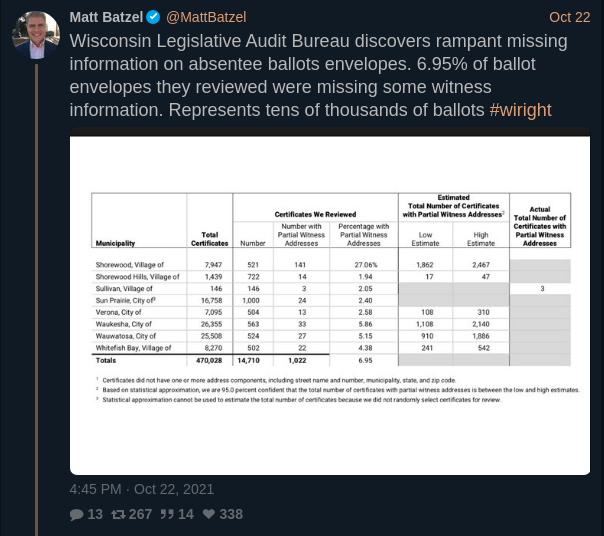 ​
The review itself was pretty bad: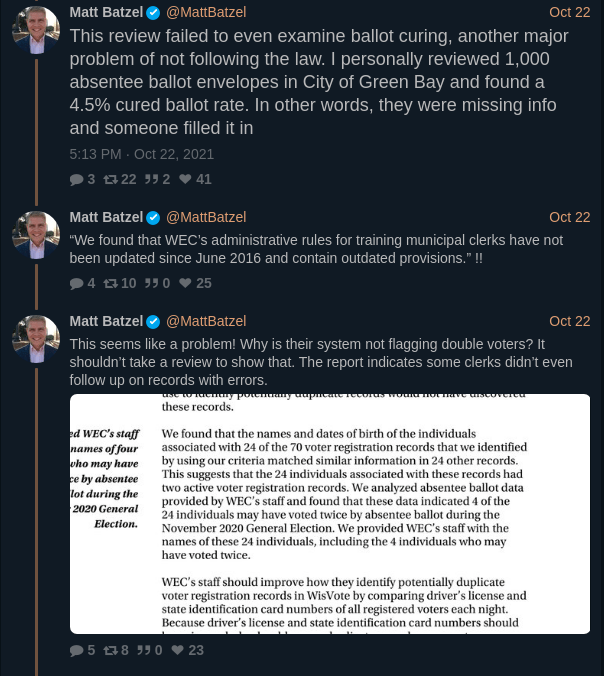 ​
​
No ID? No problem:

​
John Nevin at UncoverDC has an EXCELLENT breakdown of the LAB report. He takes the fake news narrative that the WI election was secure and drops it on its head. Also, a reminder about Wisconsin (my bolded):
The City of Madison (2nd most populous in Wisconsin) and Milwaukee County (most populous) did not allow LAB to physically handle election records, including ballots and absentee ballot certificates, citing chain of custody concerns. Along with another small town that refused, 18.9% of all ballots cast in Wisconsin were inaccessible to this LAB audit.

The LAB audit is only one of several ongoing election integrity efforts in Wisconsin. An investigation with subpoena power is led by a former Supreme Court Justice, Michael Gableman acting as Special Counsel. Various legislation has been introduced to reform election law. Reps Janel Brandtjen and Timothy Ramthun are still pushing for a full forensic audit of ballots and machines.

Keeping in mind that the certified totals that gave Joe Biden Wisconsin's electoral votes have him winning the state by about 20,500 votes, here are a few of the more significant takeaways of Friday's LAB audit report.
The announcement of the new investigation by the State Legislature was made after Nevin's article, so add that to the pile with the others. Decertification will happen, regardless of what the fake news is telling you, and that movement is picking up serious steam. Proof?
In Georgia, it's the land of election crimes. How about this, from Kevin Moncla at UncoverDC: over 1mm last-minute ballots discovered, with physically no time to prepare and deliver them before the election.
As I always preach, even when it seems like we get knocked back a step, we move two and three steps forward. The mid-terms are heating up, and President Trump is already turning up the temperature. Look for forensic audit support by state representatives start to snowball.
The old saying about government is "the wheels of justice grind slowly", and we're seeing that in real time. It's like a glacier; slow, but it runs over anything in its path, and there's nothing you can do about it. The only shot the enemy had for avoiding this was for this data to never see the light of day.
We're way beyond that.