On Tuesday, President Trump fully endorsed John Gordon for Attorney General of Georgia:
Great news for Georgia! A very successful Businessman and Attorney, John Gordon, will be running against "Do Nothing" Attorney General Chris Carr. As everyone in the Great State of Georgia is aware, Carr did absolutely nothing to stop the 2020 Presidential Election Fraud which, as facts have shown, and are showing, was rampant. He spent more time hunting those people who fought for the truth than he did those who cheated in the Election. Chris Carr was a disaster every step of the way. He wasn't looking for Election Integrity, but rather, an easy way out.

John Gordon, on the other hand, will get to the bottom of it all. He is tough, strong, smart, and loves the people of Georgia. He is also strong on the Border, Crime, our Military, Vets, and will proudly protect our Second Amendment. He will be a spectacular Attorney General, something the state so desperately needs. John Gordon has my Complete and Total Endorsement. He will never let you down!
AG Chris Carr, Governor Brian Kemp, and Secretary of State Brad Raffensperger have some scheme they're desperately trying to protect, and it's about time for it to be fully exposed.
On John Fredericks' radio show yesterday, candidate for Georgia Attorney General John Gordon says the first thing he'll do is launch an investigation into Brad Raffensperger's office, as well as the Fulton Board of Elections.
If you're disgruntled over the Georgia election situation, you'll love this 10 minute clip:
This is excellent news, and you can hear the frustration and seriousness in his voice. Here's the campaign spot from his website:
Corey Lewandowski is consulting on his campaign. Lewandowski may not be your cup of tea (I happen to like his aggressiveness) but he's smash-mouth on campaigns, and he takes care of the details, like the top-notch campaign video and a clean logo that actually incorporates the state and office for which he's running (something idiotically neglected by too many candidates for any office).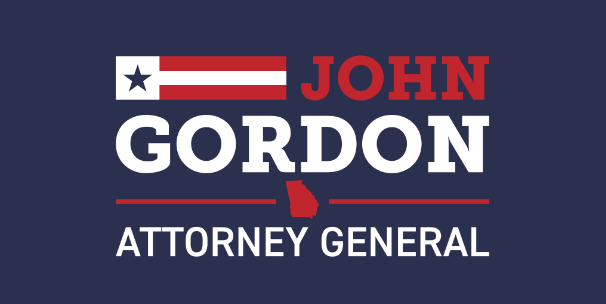 ​
There's a few things I really like about Gordon. He grew up in Georgia, is a small business owner of a bio-diesel plant, and an attorney.
I love this combination for Attorney General of my former home state (my last vote in Georgia was cast for Kemp) because he knows the law as an attorney, cares about the state as a life long Georgian, and is furious with the criminality of the Governor and Secretary of State, and the neglect of those crimes by the Attorney General.
He looks the part and is very likable, and moves to the front of the line with President Trump's golden-ticket endorsement.
Regarding endorsements, one word about David Perdue. Understand, the race for Governor of Georgia and against the machine isn't for the faint of heart. It's a statewide race, and Perdue has that experience running for Senate (which he won).
He has the name ID, and can put the money together. He's been ostracized by his cousin, former Georgia RINO Governor Sonny Perdue who teamed up with Kemp, and is no friend of the Georgia establishment. David Perdue is on our team, and MAGA needs to support him. He's not only going after the election coup, but he's pushing constitutional carry and the elimination of the Georgia state income tax.
I'm incredibly optimistic for Georgia because MAGA is completely taking over with the Trump endorsement blitz: David Perdue for Governor; Jody Hice for Secretary of State; John Gordon for Attorney General; and Burt Jones for Lieutenant Governor.
This is a MAGA reform ticket for Georgia, plain and simple. Oh, and by the way, President Trump set a fundraising record with his PAC: $110mm in cash, more than the DNC and RNC have COMBINED:
Trump's Save America PAC crossed $110 million in the bank at the end of February, after taking in $3.5 million during the month and spending just $1.2 million.

That is more money than both national political parties — the Democratic National Committee and the Republican National Committee — have combined in their main bank account. The DNC reported $52.9 million in its coffers at the end of the month, while its Republican counterpart had $45.5 million in its bank account.
Oh, and President Trump is holding a rally on Saturday in Commerce, GA. What a bad time to be a election coup-denying RINO; just ask Mo Brooks.