There's a myth that we have 53 Republican Senators. We have a few more than before 2018, but there's plenty of human waste that needs to be flushed from the GOP. From following politics and the news closely, here are 25 Senators I am certain would give their left arm to see Trump gone (bold are up in 2020):
TN - Lamar Alexander
WY - John Barrasso
MO - Roy Blunt
NC - Richard Burr
NC - Thom Tillis
ME - Susan Collins
AR - Tom Cotton
IA - Joni Ernst
CO - Cory Gardner
SC - Lindsey Graham
NE - Deb Fischer
NE - Ben Sasse
GA - Johnny Isakson
GA - David Perdue
OK - James Lankford
UT - Mike Lee
UT - Mitt Romney
KY - Mitch McConnell
AK - Lisa Murkowski
AK - Dan Sullivan
KS - Jerry Moran
FL - Marco Rubio
MS - Roger Wicker
PA - Pat Toomey
SD - John Thune
I missed a few that are flying under the radar, but these are the out-of-the-closet anti-Trump Senators. Yes, Tom Cotton is one of them, but he's up in 2020, so look for him to be on the Trump train until after the election, but he very much dislikes Trump.
The de facto leader of the never-Trump movement is Ben Sasse. Every night he kneels at his bed and prays that the Good Lord takes away the mean and crude Donald Trump from office. If we only flush him in 2020 then I'll be happy.
Joni Ernst is very anti-Trump and pro-China, but she's watching what she says leading up to 2020. McConnell hates that Trump wields so much popular influence over him; he doesn't necessarily hate Trump, but really wants him gone.
Corey Gardner and Susan Collins should be no surprise. Miss Lindsey hopefully gets flushed by the people of South Carolina.
As you can see, we have a great opportunity to flush a number of these losers in 2020, like we did in 2018.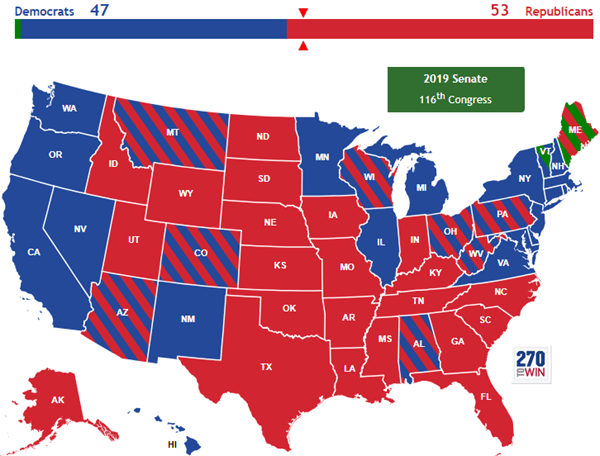 ​