Lately, being a Soros-backed attorney isn't a happy position to hold. They're being exposed by the media, caught up in investigations and indicted for crimes that used to be a perk of the job, and just losing all around in general.
Here are a few quick cases.
Marilyn Mosby, the Baltimore City State's Attorney of "give them their space to destroy" fame has been indicted by the feds on a few felonies:
A federal grand jury has indicted Baltimore's top prosecutor Marilyn Mosby on charges of perjury and making false statements with a series of financial transactions that helped her buy a condo on Florida's Gulf Coast and another property near Orlando, Florida.
The local news are protecting Soros' criminals less and less. Loudon County Attorney General Buta Biberaj was busted hiring a convicted pedo. Seemingly small news items like that used to almost never make it to fake news media.
In Los Angeles, there's a revolt by deputy district attorneys to remove George Gascón, the county's head District Attorney. A union representing ~800 prosecutors took a vote, with a result of 97% of participants wanting him to be recalled.
The soft on crime attitude is wearing thin when it starts affecting those supporting the criminals.
My favorite case is Kim Gardner, St. Louis prosecutor who literally framed then-Governor Eric Greitens by manufacturing evidence against him, ultimately forcing him to resign. Gardner has a hearing on ethics charges from that "investigation":
Last spring, Gardner was accused by the state's chief disciplinary counsel of professional misconduct, including allegations that she hid details about the Greitens investigation from her own team, failed to share share notes taken during interviews with witnesses, misrepresented evidence to the court and did not disclose evidence to Greitens' legal team.

She was additionally accused of choosing not to correct false and sworn statements delivered by members of her team about the existence of notes taken during a series of interviews with the former governor's accuser.
She's in trouble. How bad was her frame job? Her lead investigator, a former FBI agent, was indicted on seven charges:
A former FBI agent accused of botching the criminal investigation of former Missouri Gov. Eric Greitens turned himself in Monday after being indicted on charges alleging that he lied in a deposition about his interview with a woman who had an affair with Greitens.

William Tisaby surrendered to authorities on the same day that an indictment charging him with six counts of perjury and one count of tampering with physical evidence against him was unsealed.

Tisaby, who lives in Trussville, Alabama, was hired last year by St. Louis Circuit Attorney Kim Gardner to investigate allegations that Greitens took a compromising photo of his hairdresser and threatened to share it if she exposed their affair in 2015, a year before the Republican was elected governor. Charges were eventually dropped, but Greitens resigned last June.

Gardner's handling of the Greitens case drew strong criticism from his attorneys, who asked police to investigate whether Tisaby lied under oath as part of a deposition of the hairdresser.
What about Eric Greitens? No worries. While Gardner is tied up in legal trouble, Greitens is running for Senate as a hardcore America-first MAGA candidate in what looks to be a runaway campaign.
Developing news from yesterday was especially sweet. The criminals involved in yet another frame job against the Trump Organization, started by former Manhattan DA Cyrus Vance Jr, who was another Soros loser who had to resign, and now Soros-controlled New York Attorney General Letitia James, who tried to take a crack at it, have encountered some turbulence.
Yesterday, the two top prosecutors on the case resigned. The fake news is making it sound like two coffee boys resigned, but Shipwreckedcrew smacked that down: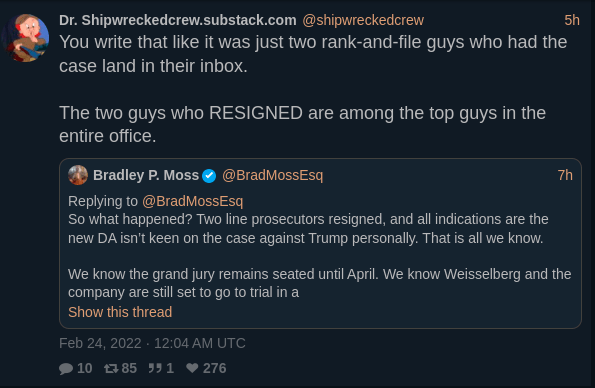 I'm no prosecutor, but this doesn't sound good for them. The Trump Organization was supposed to be James' white whale, but now she'll likely have to close up the investigation.
The other Soros prosecutors are corrupt as hell, and the majority of Americans want them gone. Watch them continue to lose.