Some recent news stories you should know about to get you ready for the new week.
Cellphone Geolocation Data: 7 Percent of Mail-In Ballots Were Trafficked in 2020 Election
A detailed breakdown by Wendi Mahoney of the ballot trafficking bust by True The Vote. This will bring you up to speed on that amazing investigation.
Exclusive: Zuckerberg-Connected Nonprofit Helped Shift Michigan's 2020 Voting Rules
Another state bribed by CTCL.
A nonprofit connected to Mark Zuckerberg-funded groups worked with Michigan Secretary of State Jocelyn Benson to influence state elections ahead of 2020. The changes include getting the state to alter how it used absentee ballots without an act of the state legislature.
Mike Lindell drops a report by Jeff O'Donnell on the election database manipulation for Mesa County provided by Tina Peters
Yes, definitely database manipulation of vote totals. These machines should not be used in ANY election, EVER again.
SO CORRUPT: Media Lies About Trump Rally Crowd Size – Trump Sets The Record Straight
I can't fathom any politician drawing crowds this large.
DEVASTATING! President Trump Lays Out the Voter Fraud in Georgia from 2020 Election during Commerce, GA Speech
GEOTUS is making it clear he's about to go hard on the 2020 election coup by laying out the evidence compiled over the last year and a half.
Elon Musk is toying with starting a new competitor to Twitter
Musk put out some tweets about competing with Twitter with a new platform. I like it, because it would wipe away the bottom feeders, like Gab and GETTR, and force Truth Social to be competitive.
Kim Dotcom, who I think is a clown, is one of the best when it comes to projects like this, especially on decentralization and privacy. He followed with this tweet: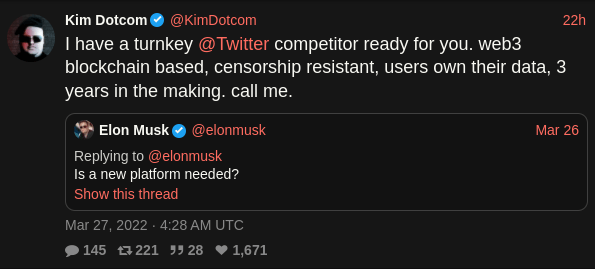 Russia is pegging the Ruble to gold
If you want to buy oil and gas from Russia, it needs to be done with Rubles if you're an "unfriendly country." Putin essentially pegged gas to Russian oil via the Ruble, which will increase the demand for Rubles.
It's hilarious to watch Putin run circles around the globalists. There's a lot to this, and it deserves its own article, but ultimately, I think it will be a very good thing for the U.S., albeit short-term volatility. Remember, like Russia, we grow our own food and produce our own energy. We'll eventually peg the dollar back to gold, and the world will be a much better place for it. Meanwhile, things will get a little harsh for Europe as Qatar rejects their request for more gas supplies.
EXCLUSIVE: Russia Sold Its Stake in Uranium One Shortly Before Invading Ukraine – The Same Company Clintons Helped Turn Over to Russians
It looks like the Russians knew the US would take back their stake in Uranium One after their invasion of Ukraine so they sold their piece in the company before the US took it over.
EXCLUSIVE: Hunter Biden Bio Firm Partnered With Ukrainian Researchers 'Isolating Deadly Pathogens' Using Funds From Obama's Defense Department.
The emails have been out there, but Jack Maxey put together emails on Metabiota as the Laptop from Hell continues to bear fruit.
An investment firm directed by President Joe Biden's son Hunter Biden was a leading financial backer of a pandemic tracking and response firm that collaborated on identifying and isolating deadly pathogens in Ukrainian laboratories, receiving funds from the Obama administration's Department of Defense in the process, The National Pulse can exclusively reveal.
Darrell Issa sends letters for individuals and parties to preserve evidence over Biden laptop cover-up
Congressional Republicans are preparing to launch an investigation into Hunter Biden's laptop and the media's subsequent suppression of information regarding it if they can regain control in Congress following November's midterm elections.

Rep. Darrell Issa, a California Republican, told Just the News podcast's John Solomon Wednesday that he is leading the way by sending letters to the New York Times, Facebook, Twitter, and "dozens" of former U.S. intelligence officials that called the Hunter Biden laptop story "Russian disinformation." Issa's letters warn them to "preserve evidence" for an investigation that could come next year.
Trump Suing Hillary, Russia Collusion Hoaxers Who Plotted Against His Run For President
Former President Donald Trump is suing Hillary Clinton and a myriad of other Democrat operatives for peddling false information that he was colluding with Russia to steal the 2016 election.

In a 108-page complaint, Trump details the depth of the plot to take down his presidential campaign, and he uses special counsel findings to identify the masterminds behind the lies that he was somehow working with the Kremlin.
F.B.I. Will Begin Disclosing Documents On Infiltration Of Right-Wing Groups
I'll be watching for these.
Sources indicate that the F.B.I. has been using undercover techniques to infiltrate right-wing groups since at least the early 1990s, but precursors to the program have likely been around far longer than that…

Officials at the F.B.I. code-named the program PATCON, and the agency will reportedly begin releasing documents to the public, which shed light on the program, in the coming months
"Unprecedented" Arctic and Antarctic high temperatures debunked
The global warming hoax is a full-time operation. The past week the stories have been about how hot it's getting at the poles.
This past week two left-leaning media outlets, MSN (via The Washington Post aka WaPo), and the always alarmed UK based The Guardian ran stories saying the Arctic and Antarctic, had experienced "unprecedented" high temperatures. These claims can't be verified since they were the results from a set of weather model simulations, indicating variations of above normal temperatures for the regions, not actual surface temperatures measured by ground-based weather stations.
House Republicans Turn On Liz Cheney – Cohosting Fundraiser For Her Challenger
Cheney continues to lose her support. This is a major signal in terms of taking back the Republican Party from the RINOs.
RINOs Karl Rove and Mitch McConnell's epic fail to take down Eric Greitens
Mitch McConnell is desperate to take down Eric Greitens because he's been setting the litmus test for other candidates to not support McConnell as Senate leader. Greitens is in a runaway campaign at this point, so McConnell actually enlisted the help of sleazeball Karl Rove to launch an attack on Greitens. It failed in spectacular fashion, and it hurts the other RINO senators who support McConnell.
Arizona Legislature Passes Bill Requiring Proof Of US Citizenship To Vote
Under House Bill 2492, Arizona voters would be required to provide proof of citizenship on voter registration forms.

The state Senate passed the bill March 23 in a 16–12 vote, with 12 Democrats voting against the bill and two others—Democratic Sens. Lela Alston and Juan Mendez—opting not to vote. The state House already passed the bill, which now heads to Republican Gov. Doug Ducey's desk to be signed into state law.

The bill requires that every voter is a citizen of the United States and is able to provide satisfactory evidence as such. The legislation states that the county recorder or other officer in charge of elections must reject any application for registration that is not accompanied by satisfactory evidence of citizenship.
Regulators roll back climate change rules for gas pipelines, deal blow to Dems' agenda
Creepy's handlers are not in control. If they were, no way this could happen.
An independent energy regulatory agency has backpedaled on its previous decision to invoke environmental regulations for new natural gas projects.

The Federal Regulatory Energy Commission, composed of three Democrats and two Republicans who are Senate-confirmed political appointees, voted unanimously Thursday to designate the rules as draft policy statements, meaning they will not apply to pending project applications.

The move dealt a blow to the Biden administration's climate change agenda but delivered a major win for critics who argued the green regulations would have deterred new natural gas projects.
GOP Rep Madison Cawthorn Makes Bombshell Claim About The D.C. Elite
It would be nice if he names them.
GOP Rep Madison Cawthron is holding nothing back.

During an interview, he made the claim that members of the Washington DC elite invited him to orgies and did cocaine in front of him.
Jeff Fortenberry RESIGNS two days after being found guilty of lying to FBI about illegal campaign donations totaling $30,000 from a Nigerian billionaire
Another RINO flushed.
2-time Maine gubernatorial candidate Eliot Cutler arrested on child porn charges
I'm always shocked when I learn a leftist is NOT a pedo.
Two-time former Maine gubernatorial candidate Eliot Cutler was arrested Friday afternoon on felony charges related to possession of child pornography.

Hancock County District Attorney Matthew Foster said Cutler, 75, will be charged with four Class C counts of possessing sexually explicit material involving a child under age 12. He was taken to the Hancock County Jail in Ellsworth. Bail has been set at $50,000.
Links to random stories:
As Far as China Is Concerned, Keanu Reeves No Longer Exists
Apple is doling out $200,000 'retention grants' to keep people from leaving
How Steve Wilhite created GIF, the graphics format that ate the world
VDH: The Real 'Reset' Is Coming
Republicans Look to Pick Up Open Seat in North Carolina
Commentary: The 'Trump Won' Movement Will Be Vindicated
Archaeologist claims to find oldest Hebrew text in Israel, including the name of God
Seattle in 'Criminal and Humanitarian Emergency,' Says Business Owner
Eric Adams says NYC has become 'a laughingstock' as crime surges
New York City population dwindles by more than 300,000 last year
California exodus visualized by state
The Biden Administration Is Cooking The Books On Illegal Immigrant Arrests
CORTES: The Heartland's Red State Rebellion Against the Establishment
How One Ukrainian Billionaire Funded Hunter Biden, President Volodymyr Zelensky, And The Neo-Nazi Azov Battalion
You'll Own Nothing and Like It: Apple Is Working on Hardware Subscriptions for iPhones
Low taxes, school choice help inform ALEC's ranking of best, worst governors