In the President's speech to the Farm Bureau Federation Annual Convention and Trade Show in Austin, Texas on Sunday, he left zero doubt as to why his approval from farmers is 83%. In his speech, he highlighted a list of accomplishments that paint a very clear picture of the turnaround of our farming industry.
We compiled his mind-blowing list of key farm points mentioned during the speech (he also made more on the economy, some manufacturing):
Trade deals yet to kick in
Before Trump, NET Farm income plummeted by 20%
NET Farm income has increased nearly 50% in three years, $30B
China deal opens new markets for beef, pork, poultry, seafood, soybeans, rice, dairy, infant formula, animal feed, biotechnology, and more
China deal protects US agribusiness from IP theft
Farmers have access to aid from tariff dollars from China targeting
Strong stipulations in deal for China purchases
Trump administration walked from China deal "a lot". China kept calling them back
Under the deal, China agrees to purchase services, energy , manufactured goods, and respect IP
China pledged to confront counterfeit products – enforced in the agreement
More winning on the way for farmers after signing USMCA (after Davos). May sign deal in a farming community
USMCA gives US dairy access into Canada
Canada was charging US 287% tariffs on dairy, essentially blocking access
Dairy exports to increase by more than $300mm per year
Poultry exports to Canada expected to jump 50%
Exports of eggs to both Canada and Mexico expected to jump 500% to 1,000%
Canada to give fair treatment to US wheat
Japan ($40B deal)
Japan slashed tariffs on $7B of US Ag products
Over 90% of exports to Japan will receive preferential treatment, and completely duty-free for many products
Secured guaranteed access of beef to the EU – will triple beef exports to Europe
Trump admin pressuring EU to drop beef tariffs, otherwise it won't be good for them
Europe was in many ways more difficult to deal with than China
Secured record access for rice in South Korea
Won tariff exemptions for wheat and soybeans in Ecuador
Opened up Vietnam access for orange producers
Brazil raised quotas for wheat and ethanol
Opened up Tunisia and Guatemala access for eggs
Ended China's ban on poultry ("because I asked" – China said nobody ever asked before)
To keep farms in family, TCJA eliminated death/estate tax for farms, ranches, and small biz
Energy independence – lowers farming costs and prices
Ethanol E15 to year-round
Farmers, by nature, take care of land and environment
One of my new favorite lines that I've heard him say: "When it comes to the environment, I will always trust a farmer over a Washington bureaucrat or left wing extremist."
To help producers expand, signed a farm bill that doubles the amount that can be borrowed
Protected crop insurance program
Liberated agriculture from crippling regulations
Another great line: "In the Trump administration, we know that the role of government is not to harass our citizens; it is to serve our citizens."
When took office, issued order eliminating 2 regulations per 1 new. Instead, have eliminated 8-to-1.
Trump relays personal understanding from real estate days of delayed productivity from excessive regulations
New rules for approval limits max delay from 2 years (from 10 or more), and in many cases less than 1 year
Terminated Obama's insane Waters of the United States rule (received applause) – basically allowed government to take property at will
Announces he's eliminating Obama's Army Corps of Engineers' Water Supply rule proposal that would give government unlimited power to restrict farmers' access to water. Keeps power with the states.
Under Trump administration, devoted over $1B to expansion of broadband to rural areas
Incredible. It's going to be fun to watch Bernie Sanders and Elizabeth Warren campaign in farm country and try to convince them how crappy Trump has made things. I doubt Mike Bloomberg has ever seen a farm. (I almost made a Pete Buttigieg/cornfield joke, but I passed).
President Trump's love for this country is invigorating.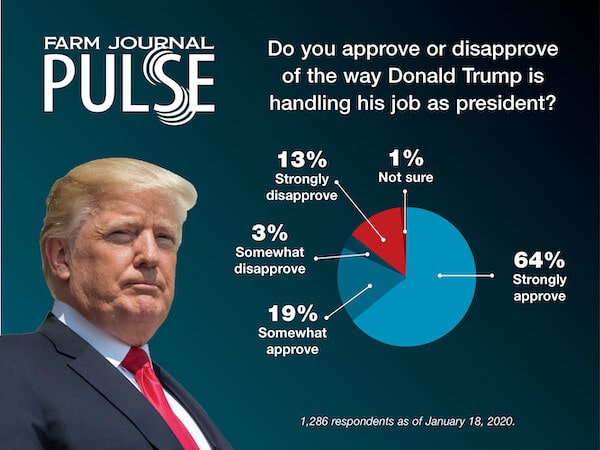 ​