I was wondering when they were going to start putting this into action, but I got my answer when I saw this article today:
Apple unveiled plans to scan U.S. iPhones for images of child sexual abuse, drawing applause from child protection groups but raising concern among some security researchers that the system could be misused, including by governments looking to surveil their citizens.

The tool designed to detected known images of child sexual abuse, called "neuralMatch," will scan images before they are uploaded to iCloud. If it finds a match, the image will be reviewed by a human. If child pornography is confirmed, the user's account will be disabled and the National Center for Missing and Exploited Children notified.

Separately, Apple plans to scan users' encrypted messages for sexually explicit content as a child safety measure, which also alarmed privacy advocates.

The detection system will only flag images that are already in the center's database of known child pornography. Parents snapping innocent photos of a child in the bath presumably need not worry. But researchers say the matching tool — which doesn't "see" such images, just mathematical "fingerprints" that represent them — could be put to more nefarious purposes.
If you're not using a secure phone, you really need your head examined. As sure as I'm typing this, innocent people will have their lives ruined in the not-so-distant future.
Don't think so? Ask those who attended the rally on January 6th. Ask General Flynn. Ask Carter Page. I can do this all day, but I hope you don't need to be sold on the fact that law enforcement are criminals.
Like Snowden or hate him, he had a money quote: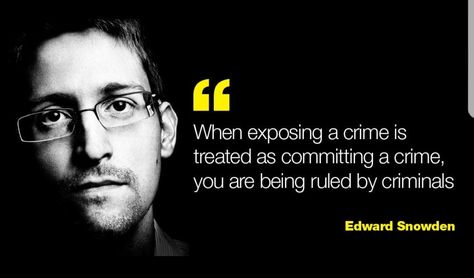 ​
Yes, we're ruled by criminals.
There's a phone going around right now that's fooling a lot of MAGA, much like the GETTR and Parler scams. Don't fall for it.
I don't want to call it out by name right now, but if you're wondering if it's the one you're thinking of, do this: go find the source code and send it to me.
Can't find it? That's the one. For the love of God, stop falling for these grifters.
Remember all the screaming by people like me about tracking and privacy while you said "I got nothin' to hide"? Remember when people like me told you to quit handing out your phone number to honeypots like Parler and GETTR?
You need to stop. I know, you love your iPhone, but I hate to tell you, iPhone died with Steve Jobs. You need to start changing your tech habits and re-evaluate things.
If they're going to frame you and destroy your life, at least don't make it easy for them.
What phones do I recommend that will keep you safe? Check out CalyxOS or GrapheneOS. Hell, maybe I might even sell installs.
You've been warned. That's all.